A Trusted Painting Contractor Serving Homeowners in Bothell, WA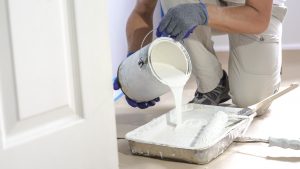 AV Painting is the painting contractor of choice among homeowners in Bothell, Washington, and communities throughout the Seattle area. Why? Our thorough and consultative approach to house painting services may have something to do with it. As a locally owned and operated company, we believe home improvement is personal and strive to help our customers by identifying issues, suggesting solutions, and delivering a clean, customized paint job.
As a full-service home painting contractor, AV Painting excels in:
Kitchen cabinet painting
Commercial painting
Your Local Painting Company
While AV painting isn't the only painting contractor in town, we separate ourselves from "chuck-in-a-truck" companies in several ways—for example:
Our handpicked team of experienced home painters knows preparation is key, which is why we fix any damage, remove old paint, and carefully prepare interior and exterior walls and cabinets prior to painting.
We are a lead-safe certified firm that carefully follows proper protocols for homes built prior to 1978.
We offer an industry-leading, 8-year written warranty on our work to ensure ultimate peace of mind for our customers.
Our professionals offer free color consultations and eagerly work with customers to help discover the best solutions for their homes.
Schedule a Free Estimate
Whether you're about to list your Bothell-area home, want to add your personal touch on a home you recently purchased, or simply want to breathe new life into your space, AV Painting is the painting company you can choose to get the job done right. Schedule your free, in-home estimate today by selecting a time online or contacting our friendly professionals at (206) 693-4861.