Experienced Kitchen Cabinet Painting Contractors Serving Homeowners in Seattle, WA & All Surrounding Areas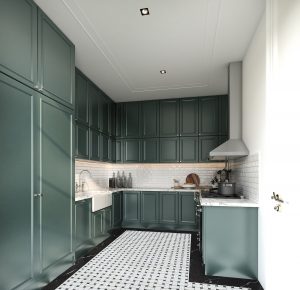 Your kitchen cabinets are a focal point of your home's design—if they are worn, scuffed, or simply outdated, it will drag down the appeal of your entire living area. You might have researched some solutions for updating your cabinets, such as replacement or refacing, only to find that the high costs and long construction timelines put these projects out of reach. So, does that mean you simply have to live with ugly cabinetry that's a blight on your kitchen? Absolutely not! At AV Painting, our kitchen cabinet painting service is a cost-effective alternative for homeowners in the Seattle, Washington, area that's sure to impress.
Benefits of Cabinet Painting
Kitchen cabinet painting is indeed much more affordable than traditional remodeling projects, such as cabinet replacement. But that's far from the only benefit. When you choose AV Painting, you'll have virtually limitless color options to choose from, allowing you to create a look in your kitchen that you absolutely adore. During your free color consultation, we'll thoroughly review your options and help you choose a style that complements the design of your kitchen.
What's more, the typical kitchen cabinet painting project can be completed in just a couple of days, so you can start enjoying a refreshed kitchen design as soon as possible.
Trust the Professionals
Painting kitchen cabinets is intricate work, requiring extensive experience and a keen eye for detail. In fact, it's not unusual for projects handled by inexperienced contractors or DIYers to quickly start peeling, cracking, and fading. You'll never have to worry about that when you choose AV Painting. Our team includes hand-picked interior painting specialists who follow strict protocols for prepping surfaces and expertly applying top-of-the-line primer and paint. You can have complete peace of mind that your cabinets will continue to look beautiful year after year, as we provide an eight-year written warranty.
Contact Us
Give your kitchen a fresh new look at an affordable price. Reach out to AV Painting today to schedule a free consultation at your home in the Seattle, WA, area.