Exterior House Painting Specialists Serving Homeowners in Seattle, WA & Beyond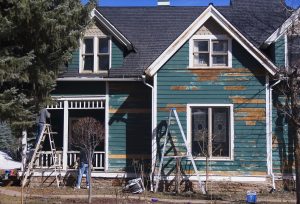 Exterior paint has an enormous impact on the overall look and feel of your home in the Seattle, WA, area. So, if it is chipped, peeling, faded, and dingy, that's the impression that your home will give visitors and passersby. And, beyond looks, paint plays an important role in protecting your home from the elements, helping to keep everything from pests to wood rot at bay.
As exterior house painting specialists, AV Painting focuses all of our efforts on these types of projects. This sets us apart from other exterior house painters who might offer this as one of their many services. For example, we provide:
Flexible & Customized Exterior House Painting Solutions
AV Painting has more than 15 years of experience as an exterior house painting contractor in the Seattle, WA area. Over this time, we have worked on homes of all ages and styles, taking on even the most complex projects with the utmost skill and precision. Whether your home's exterior features siding made from wood, stucco, fiber cement, or virtually any other material, you can rest assured we have the expertise to complete your painting project to the highest standards. What's more, if you'd like to have additional exterior components painted as part of your project, such as your fence and deck, we can handle those as well, making us your one-stop shop.
A Seamless House Painting Process
As your exterior house painting contractor, AV Painting will provide a hassle-free experience from start to finish. Unlike many other residential painting companies, we:
Offer carpentry services to replace rotten wood and perform other necessary repairs
Provide comprehensive preparations, including covering landscaping, pressure washing your home's exterior, removing old paint, and addressing imperfections
Keep your property clean throughout the house painting process and do a final cleanup once the job is complete
Most importantly, AV Painting uses only premium primer and paint from trusted brands, such as Sherwin-Williams, and has a team of hand-picked specialists complete every job.
An Eight-Year Written Warranty
You can have complete confidence in our products, process, and people. To give you peace of mind that your investment in exterior house painting is secure, we provide an eight-year warranty—if your paint begins to fail before this time, we'll fix it for free.
Learn More
For more information about what sets AV Painting apart from other exterior house painting contractors in the Seattle, WA area, contact us today to schedule your free consultation.