Our Process for Residential Interior Painting Services
PROFESSIONAL SEATTLE INTERIOR HOUSE PAINTER

---
Our 8 Step Interior Painting Process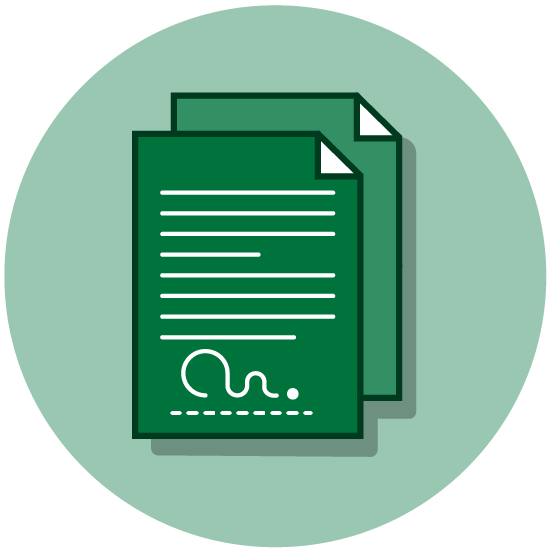 Step #1: A Free, Detailed, Multi-Page Estimate
---
You'll be given a free, detailed, multi-page estimate that spells out everything we'll be doing and how much it will cost.
During the estimate I will:
• Inspect the inside of your home and identify any problem areas that need to be repaired before painting.
• Use a laser-guided measuring tool to figure out exactly how much paint we need, so you won't have to pay extra for unused paint.
• Go over what colors you'd like to use. And if you're not sure what color you'd like to use, we'll work together to find a color that's aesthetically pleasing, speaks to your personality, and works well in your neighborhood.
I'll also listen to everything you have to say and answer any questions you have.
Once we're done you'll receive a "fixed-price" estimate. This is an estimate that lines up perfectly with the final cost, so you won't have any last minute financial surprises to deal with.
Quick Note: I recommend you get estimates from at least 3 other painting companies, so you'll have something to compare our estimate to. You'll usually find that our estimate comes out right in the middle: not too high, not too low – just a fair, reasonable, and competitive price for a high-quality paint job.
---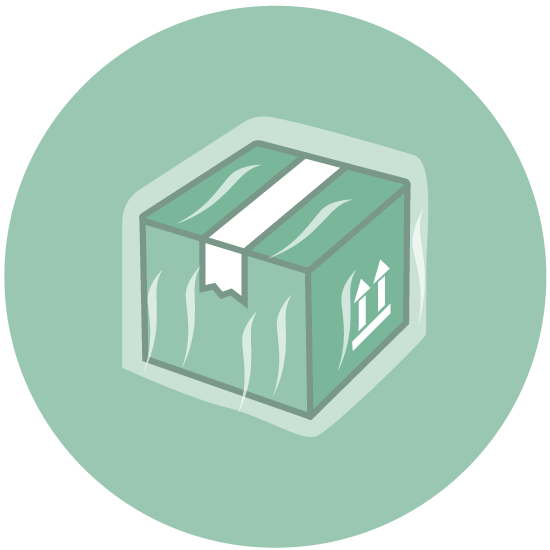 Step #2: Protecting Your Property
---
■ Floors will be covered with heavy duty canvas drop sheets – these have a rubberized "leak resistant" coating that protects against spills and scratches
■ Furniture, counter tops, and appliances will be covered with a plastic film to protect against dust and paint splatter
■ Light switches, power outlets, towel racks, brackets, phone and cable jacks, heating and A/C vents, door handles, door hinges, and door stops will be removed (or masked off) when appropriate.
---
Step #3: Removing Old Paint
---
High carbon steel scrapers will be used to remove any old, loose, or flaky paint.
This is important because it allows the new paint to stick directly to the surface that's being painted, instead of sticking to an old, loose, or flaky layer of paint that could fly away at any minute.
Quick Note: If your house was built before 1978, it's very likely that it was painted using lead-based paint – which can cause brain damage and learning disabilities in children and pets.
The EPA (Environmental Protection Agency) requires all painters removing lead-based paint to follow extremely strict lead containment procedures. We've been certified by the EPA as a Lead-Safe Certified Renovator, and can handle this problem for you if you have it.
---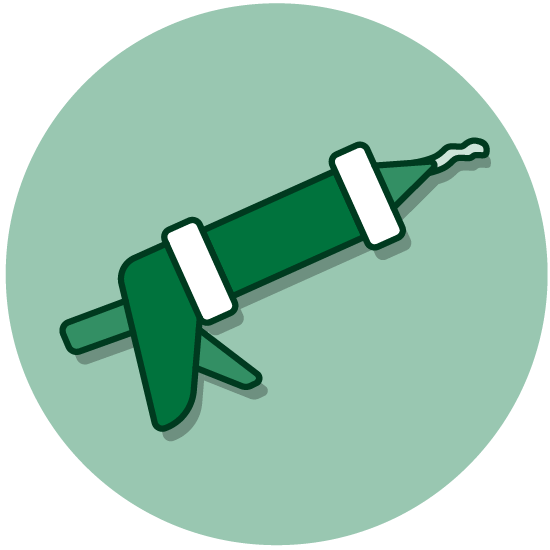 Step #4: Sanding, Puttying & Caulking
---
Sanding. If the area being painted has any imperfections, we'll may use a random orbital power sander that has a vacuum attachment to control dust. This smooths out the area and makes it look better.
And, if we need to do a lot of sanding in a particular area of your house, we'll section it off with dust barrier (which is plastic wall with a zipper down the middle for a door). This stops dust from flying around your home, landing on your things, or being breathed into your lungs.
Puttying. Nail holes and gouges will be filled with putty and smoothed over. This evens out the surface and guarantees it will blend in once it's painted over.
Caulking. Cracks, gaps, and seams (no matter how small) will be filled with siliconized acrylic caulking to improve the look and insulation of your home.
---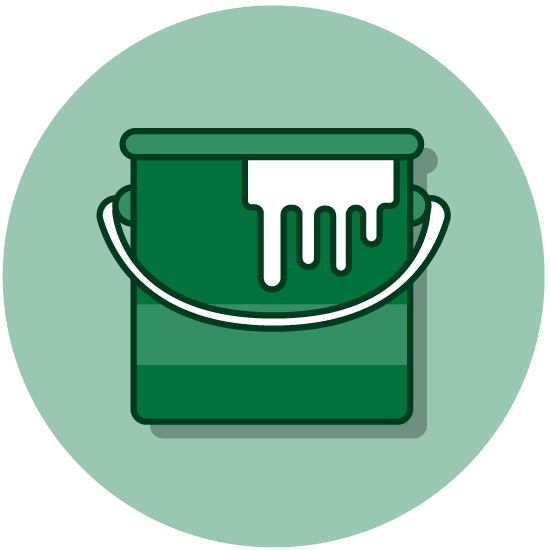 Step #5: Priming
---
Primer is basically "the glue" that causes the paint stick to the surface that's being painted.
All primer will be applied by hand with a brush and roller, which helps the primer deeply penetrate the surface being painted – creating a stronger bond for the paint.
We usually use high quality Zinsser® Bulls Eye 1-2-3® primer for all bare wood, metal, concrete, and brick… but if a different type of primer is required for a particular surface we'll use that instead.
---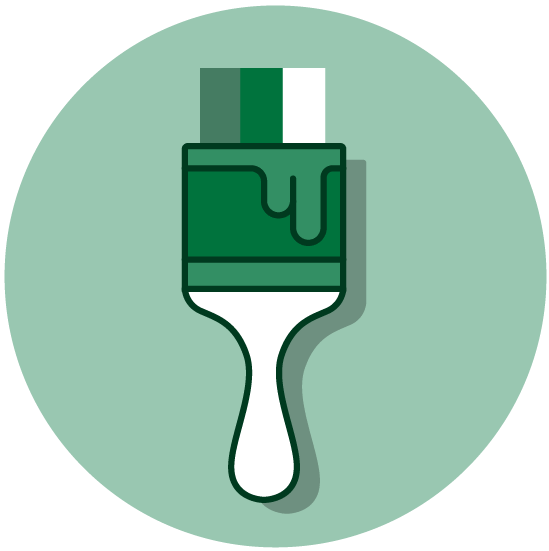 Step #6: Painting
---
We usually use a brush & roller to paint the interior of your home, because we want to make sure every square inch of your home gets just the right amount of paint.
This is important because too little paint means your paint job won't last as long as it should… while too much paint leads to a thick, saggy coat that looks ugly and reduces breathability – which can trap water and cause costly problems like rot, mold and mildew.
We will apply two generous coats of high quality, non-toxic, environmentally friendly Sherwin-Williams® paint to your home. This paint is long lasting and helps to stop dust, dirt, allergens, moisture, mold, and mildew from being absorbed into your walls and ceilings (which can degrade the structural integrity of your home).
It's also a low-odor, low-VOC paint. This means it won't stink up your house the way most paints do, and less Volatile Organic Compounds will be released into the air while the paint is drying.
And if you have another brand of paint you'd like to use instead, I'm more than happy to discuss that with you.
---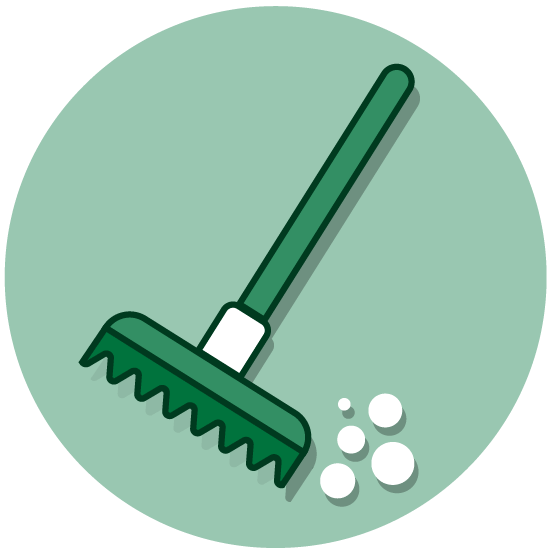 Step #7: Clean Up
---
We clean up as we go so you won't find trash all over your home.
At the end of each day we carefully pack away all our supplies and organize our tools… making sure nothing is left in your way.
On the final day of the job, we do a full cleanup to make sure your home is spotless and that not a single piece of trash is left behind.
Anything we moved or dismantled will be put back exactly the way we found it.
Quick Note: I usually recommend waiting a few weeks for the paint to dry completely, before fully tightening the screws of anything that was dismantled. This ensures it won't stick to the wall – or rip paint off the wall – the next time you try to remove it.
---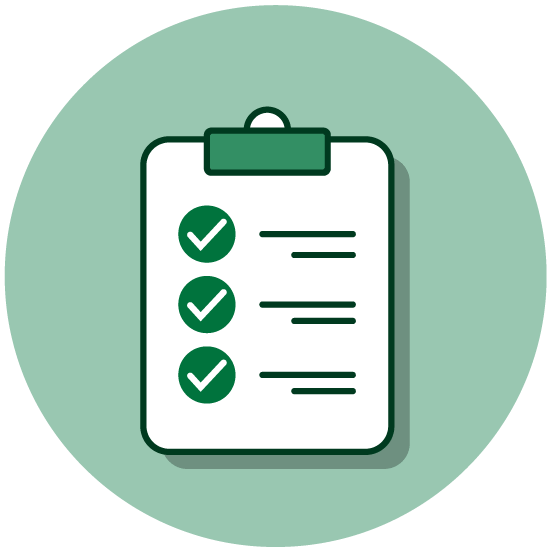 Step #8. Final Walkthrough
---
You and I will do a final (and extremely thorough) walkthrough to make sure you're 100% satisfied with your paint job.
In the rare event that we find a missed spot or there's an area that needs retouching, I'll get it fixed for you immediately. And if you find something after the final walkthrough is over, just give me a call and I'll swing by to touch it up for you.
And don't forget that your paint job is covered by our 8 year written warranty. This means that if your paint job starts to fail (bubble, peel, crack, etc.) within 8 years of painting, we guarantee (in writing) that we'll fix it for you – free of charge.