Experienced Painting Contractor Brightening Homes in Seattle, WA
The paint on the outside and inside of your home adds color and sets the tone for your style. When it gets old and faded, that's not the image you want to present. Brighten your Seattle, Washington, home with new paint from AV Painting. We are a locally owned painting contractor that provides exceptional work with meticulous attention paid to every detail.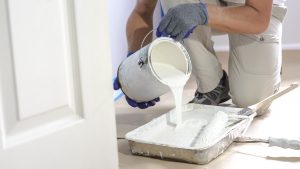 All-Purpose Painting Contractor
While you may think that painting a room in your home—or even the outside of your house—is a fine DIY project, you may be surprised at how much can go wrong. Let our highly experienced team handle your project and eliminate any unwanted surprises. You'll be left with a beautiful paint job that you'll love for years to come. We offer complete painting services, including:
Exterior House Painting
We've created a rigorous 10-step process that includes a comprehensive consultation and inspection, performing any necessary repairs, carefully cleaning and prepping exterior surfaces, protecting your property, and expertly applying top-quality primer and paint. The results are stunning. And thanks to our extensive experience as a local painting contractor, we can find the right solution for your home regardless of its age, size, or siding material.
As with our exterior projects, we'll thoroughly evaluate the interior space that needs to be painted and perform all necessary repairs and preparations before applying our premium paint. So whether you want to paint interior walls, ceilings, trim, kitchen cabinets, or all of the above, we are your one-stop shop.
Contact Us Today
Contact AV Painting today to learn more about what sets us apart from other painting contractors serving Seattle, WA. When you do, remember to ask about our convenient financing options as well as the eight-year written warranty we provide for your peace of mind.