Professional Kitchen Cabinet Painters Serving Residents of Seattle, WA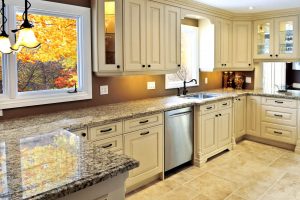 You use your kitchen a lot and it may even be one of your favorite rooms in the house. But, eventually, it begins to feel dated and maybe even a bit worn down. You don't have to do a full remodel to make your kitchen feel new! Breathe new life into it with kitchen cabinet painting from AV Painting. At AV Painting, we are professional kitchen cabinet painters that offer a cost-effective solution for homeowners in Shoreline, Washington, who want to transform the most important room in their homes.
The Benefits of Kitchen Cabinet Painting
A full kitchen remodel or even replacing your kitchen cabinets can be an expensive and time-consuming endeavor. Giving your kitchen cabinets a fresh coat of paint is a considerably more affordable option. But there are other benefits as well. When you choose AV Painting as your professional kitchen cabinet painters, you'll have an almost limitless number of color options from which to choose, allowing you to create a look in your kitchen that you truly love. During your free color consultation, we'll thoroughly review your options and help you choose a shade that complements the design of your kitchen.
Plus, the typical kitchen cabinet painting project can be completed in just a couple of days so that you can enjoy a refreshed kitchen as soon as possible.
Our team includes hand-picked interior painting specialists who follow strict protocols for prepping surfaces and expertly applying top-of-the-line primer and paint. You can have complete peace of mind that your cabinets will continue to look beautiful year after year as we provide an eight-year written warranty.
Contact Us
Enhance the look of your kitchen affordably and quickly with new kitchen cabinet paint. Reach out to AV Painting, your local, professional kitchen cabinet painters, to schedule a free consultation at your home in the Seattle, WA, area.