Friendly, Local Kitchen Cabinet Painting Services for Bellevue, WA, Homeowners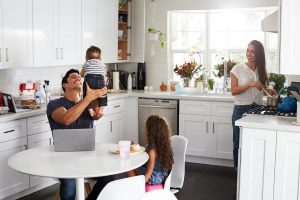 Over time, your kitchen can start to lose a little of its appeal. While you still like the design of your kitchen, you need a way to freshen up its look. That's where AV Painting comes in. With our professional kitchen cabinet painting services, we can revitalize the look of your kitchen without the need for a complete remodel. It's an affordable solution that provides amazing results. If the kitchen in your Bellevue, Washington, home needs a new look, let us show you just how far a fresh coat of paint can go.
5 Reasons to Paint Your Kitchen Cabinets
If you're tired of how your kitchen looks, don't replace all of your cabinets or spring for a full remodel. You'll be amazed at what kitchen cabinet painting can do for your home. Some of the benefits include:
A new look – Your kitchen will look and feel like a whole new room. Even your countertops will look better when our expert painters finish the job with the perfect paint to accent them.
Affordability – Compared to replacing your cabinets or remodeling, kitchen cabinet painting is highly affordable.
It can be done quickly – Brighten up your kitchen in just a day or two instead of weeks. Remodels can take a long time and be very inconvenient. At AV Painting, we always sent enough painting pros to get your job done quickly and efficiently.
Increased home value – If you're looking to sell your home, freshly painted cabinets can not only help you sell it faster, they can even increase your home's value.
Peace of mind – All our painting services, including kitchen cabinet painting, come with an 8-year written warranty.
Let's Get Started!
When you're ready to give your kitchen a new look, contact AV Painting. Our kitchen cabinet painting services can help you give your room a makeover without all the fuss of a remodel. We're proud to be the local painting company that homeowners in Bellevue, WA, trust.